A public event
On June 26, 2015 the ALES 100 celebrations hit the road and headed to the Devonian Botanic Garden.  The annual Faculty picnic for faculty, staff and their families was taken up a notch to include a public outreach.  The ALES 100 tent, located next to the Pine Pavilion on the Wedding Patio included live entertainment by "Up the Creek" as well as the Faculty historical timeline, games, crafts and activities for all to enjoy.  
Over 150 people attended from the Faculty with many more general public dropping in to take part.  The ALES 100 display re-appeared  on Canada Day to help celebrate the nations birthday.  The children visiting loved getting an ALES 100 tattoo and playing with the bubbles provided.  What's a birthday without cake, hundreds of visitors enjoyed complimentary cake during the event.
---
Devonian Botanic Garden
The University of Alberta Devonian Botanic Garden is a stunning 240-acre property located 15 minutes southwest of Edmonton, with cultivated gardens and plant collections, indoor showhouses, and an extensive nature trail system. 
The Garden is an award-winning visitor attraction, a research site, and home to year-round adult and children's education programming.  Visit the Devonian Botanic Garden webpage for more information and upcoming events.
Open to visitors May 1 through Thanksgiving.
---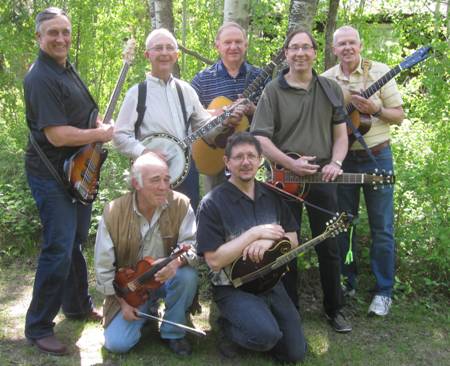 Up the Creek
This group of eight musicians have been together since 2008. Their music includes a broad cross section of musical genres encompassing bluegrass, folk, blues, and roots. The chemistry of the group generates many positive experiences for the audience. They hope that their love of music translates to the audience and the experience enjoyed by all.